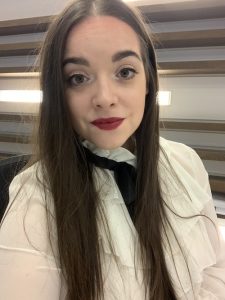 Specialist security provider SmartSec Solutions has promoted Leyre Martinez Moreno to HR Manager. In her new position, Leyre will head up recruitment and take the lead on Tupe consultations and conflict resolutions in addition to carrying out staff appraisals and managing the screening and vetting process and holiday and sickness records for the company. The promotion reflects SmartSec's commitment to developing talented people within its business.
Leyre joined SmartSec in October 2014 as a receptionist and immediately impressed the team with her hard-working and ambitious attitude. When she started a part-time Masters degree in human resource management at Birkbeck, the University of London in 2018, she was the natural person to take on the Human Resources Assistant role within the HR team when it became vacant the following year. She made an immediate impact and worked on projects that had been outstanding for some time. When the HR manager left the business in April this year, Leyre took on the interim role until a replacement could be found.
"We have been so impressed with how she's handled the role and her ability to manage tricky and detailed cases with a level head and informed guidance that we took the decision to promote her to HR manager" said Breda Smead, Operations Director, who has overall responsibility for HR. "This is a reflection of her hard work and capability."
"I am absolutely thrilled to receive this promotion," said Leyre Martinez Moreno. "I'm delighted to have been given the opportunity to prove myself in the role and to take on exciting new projects."
Leyre has a BA in Humanities from the Open University. Before joining SmartSec in 2014, she worked as an HR Administrator for The Sanctuary House Hotel in London.