BESPOKE PERSONAL & PROFESSIONAL SECURITY SERVICES IN LONDON
We believe you should expect more from your security. Offering a full suite of protection and management services in bespoke packages, we are the preferred security provider for prestige properties in Central London and throughout the Capital.
CURRENT UK THREAT LEVEL: SUBSTANTIAL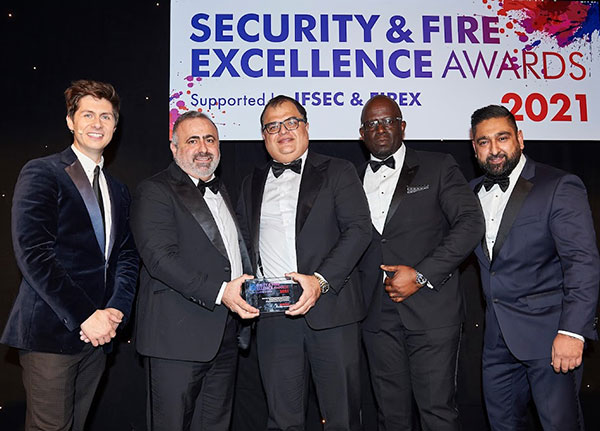 WINNER Security Guarding Company of the Year Under £25M Turnover
SmartSec Solutions would like to extend a huge thank you to all NHS staff and all key workers.
This includes all of our front line staff who are helping secure the nations infrastructure during this unprecedented time
Corporate Sector
SmartSec Solutions specialise in providing tailored security packages for our corporate customers. Clients who demand the highest level of service rely on us to manage every operational aspect in their most cherished buildings, from strategy and planning to personal assistance.
Front of House
Your front of house team is the most effective security measure at your disposal. Bright and alert, its officers know the workings of your premises intimately. Our outstanding security teams undergo comprehensive training, allowing them to perform a discreet combination of personalised client service.
Reception and Concierge
Our blue chip clients operate in many spheres – international banking, asset management, facilities management – but they have one thing in common. Attention to detail. They expect the best receptionists, the most accommodating and polished concierges.
Shopping Centres
From boutique stores to exclusive shopping centres, SmartSec Solutions is the professional choice for protecting retail property. Visible deterrents and behind the scenes coordination combine to improve loss prevention, manage risk and create a safe shopping environment for your customers.
Property and Asset Management
Smartsec Solutions have quickly established ourselves as a leader in the management of security for Property and Asset Management companies.
Public Sector
Public sector clients choose SmartSec Solutions for our proactive response, hands-on management and highly trained officers. All staff undergo regular assessment in the latest protection, prevention and control techniques. They are project Griffin briefed, and qualified in First Aid.
security and reception personnel deployed across the capital
welfare visits carried out in August 2022
We would like to take this opportunity to provide you with some key information about how SmartSec Solutions are managing the current covid-19 worldwide pandemic.
We are continually monitoring the advice being issued by the Government and we are taking the necessary steps to implement our business continuity plans. Regular communication with customers on a site by site basis has allowed us to implement changes where necessary whilst ensuring the impact on services is kept to a minimum.
Business continuity plan
As from Monday 23rd March the majority of our management team have been working from home.  Fortunately, our IT systems enable us to carry on business as usual.  Please continue to call us on 0203 002 9120.  We continue to operate our 24-hour helpdesk both from the office and remotely.
You may be aware that the government have confirmed licensed Security Industry Authority security personnel as "essential workers".  This means that we can continue to secure our customers' premises and assist the Metropolitan and City of London police forces in securing the countries major infrastructures.
Useful information
Services provided at your property
SmartSec Solutions have continued as much as possible to carry out welfare visits.  However, this has been secondary to ensuring the safety, welfare and well-being of our employees.  We continue to communicate with our staff and customers over the phone and address any issues as they arise.  We also continue to utilise our communication channels to keep all of our teams and customers updated.
As the pandemic evolves, SmartSec Solutions will review and adjust this policy as required. It is our intention to operate "business as normal". The changes made have been implemented to protect the SmartSec Solutions teams whilst ensuring that we can support our customers during this difficult and unprecedented time.
Development updates
Following advice from the Government, many of our properties are operating at a low occupancy rate, however security is being maintained to ensure properties are secure.
Thank you for your support and understanding, please get in contact using the methods detailed above if you have any queries. Please keep safe and make contact with our teams if you have any queries regarding your account or if you are a new customer seeking a security provision.  This can be in the form of manned guarding or a mobile response unit.
We are continuing to offer bespoke and professional security services in London and the surrouding counties during this time – contact us to find out more.
Safeguard your assets
with proactive, forward-thinking solutions, personalised account management and highly trained personnel.